Statistics show that criminal activity significantly increases at Xmas Season times. This is largely property crime, rising exponentially in relation to the spike in consumer activity, and the increase in cash/goods transactions. So don't call your Attorney just yet, unless you want him to rip you off too, because there has been no personal injury or physical abuse perpetrated here, there is no need for litigation just yet. It is all about valuables and cash. Money is flying around like a blizzard and valuable items are being proffered back and forth like fugazi C-notes at a 3 Card Monte game, so it goes without saying that there are certain sectors of our population who exploit this opportunity for gain. It's their Gift of the Season, actually more of a gift they see as being addressed to them, an Xmas Present from the Universe to Mr. Thief Using a crowbar to wrench open your hatchback outside the mall on Saturday afternoon, or a "special care package with love from your well stocked living room entered through smashed in back window from you unsuspecting homeowner who predictably is out at any amount of social engagements" Crooks are having a hey-day. It's ignorant, but poetic justice you might surmise... You see, with every orgy of consumerist gluttony, inevitably comes carrion to feast on the offal from this binge.
There's a lot of goodies, brand-new and in-box, getting hauled by bandits, B&E's running rampant... Theft everywhere! You stupid Xmas-Likers simply have too much stuff! The Universe needs you to have less (except debt) and it sends its minions to correct this imbalance. You claim Xmas is to spread Joy and Goodwill, so why you mad? Every Villain, from your own child, who sneaks an extra christmas cookie, to the Most Exalted Don of the Illuminati Stock Fraud and International Money Market Manipulations Syndicate, is basking in goodwill and reveling in joy because of YOUR gift to them. Now your face is red, isn't it, no wait, it looks more red on the one side, turn me the other cheek and I'll even it out for you.
SPLAT!
As you can plainly see, Property Crime, Larceny, "Theft Over", Possession of Stolen Goods, and swiping stuff in general is illegal activity that isn't so much arising around Xmas, but caused by Xmas itself, the sick flower of a diseased plant in corrupted soil, and the only way to get rid of this flash-mob riot of illegal activity is to eliminate the entire system. Kill Xmas and you Rehabilitate every Poor Helpless Criminal. Simple Gardener's Logic... Sage Wisdom, actually; if you want to kill a snake you must remove its head from it's body, which is kind of a trick, because you can tell a kid you don't like this, and he will believe you, and go and cut a rattlesnake's head off, then thinking it must be dead, he goes to pick up the head, but it still has enough nerve activity and venom to bite his hand and kill him dead. So There!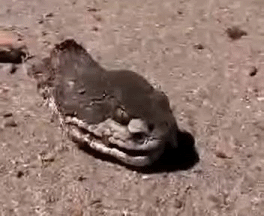 Kill the Head and the Body will Die (Sort of)
Animated GIF from
HERE